Renovation Loans
Finance or refinance with money for renovations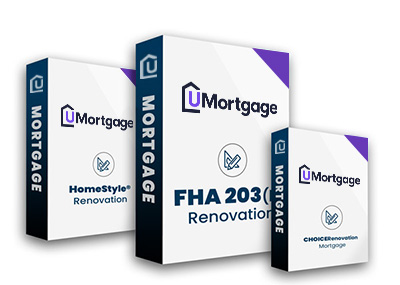 Renovation Mortgages
Home Loans for Fixer-Uppers.
I will help you understand your renovation mortgage options and how they can help you meet your homeownership goals.
Renovation Loan Programs
Are you purchasing a home in need of major repair or planning a remodel of your existing home? Securing financing to tackle these projects doesn't have to be overwhelming. Renovation Loans are designed for people wanting to finance both the mortgage to purchase or refinance a fixer-upper. The goal is to obtain the funds needed to repair/ remodel the property all in a single loan with one application/one closing/and one monthly payment. A Renovation Loan can be used to purchase or refinance a primary residence, regardless of property condition. There are a variety of different renovation loan programs for different situations. Contact me today so I can find the best one to help you meet your homeownership goals!
Get Started
I will ask you a series of questions to determine your renovation loan goals.
Loan Amounts up to:
$817,650
Credit Scores as low as:
600
Minimum Down Payment:
3%
Types of Renovation Loan Programs
FHA 203(k) Renovation Mortgage
FHA 203(k) Streamline Renovation Mortgage
HomeStyle® Renovation Mortgage
CHOICERenovationSM Mortgage
Renovation Loan Features & Qualification
One loan/one closing/and one payment for both the mortgage to purchase or refinance the home and the funds needed for major and minor improvements
Competitive long-term fixed or adjustable interest rates
Low down payments starting at 3.5% of the property acquisition and repair costs
Can finance initial mortgage payments into the loan if the home is uninhabitable during rehab/ including funds to cover potential expenses and fees
In some cases, may finance the cost to rent another home during renovations
Numerous eligible properties, including one-to-four-unit single-family dwellings, condominiums, manufactured housing and mixed-use properties (residential with commercial/owner-occupied only)
Who can benefit?
Homebuyers who'd like to purchase a less-than-perfect home in a great neighborhood/a foreclosure/short sale/or other distressed property
Homeowners and buyers who want to take advantage of excellent prices and historically low interest rates on homes in need of repair or remodeling
Homeowners who'd like to expand their current home to meet their needs
Homebuyers who would like to eliminate problems with a property before ever moving in
Homeowners wanting to make improvements to increase their home's value
Homeowners and homebuyers who would like to upgrade/add on/or make repairs without tapping into their savings or incurring additional consumer or credit card debt
Credit and collateral are subject to approval. Terms and conditions apply. This is not a commitment to lend. Programs, rates and conditions are subject to change without notice. Some products and services may not be available in all states.